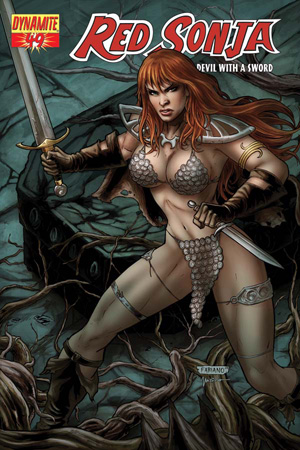 https://www.dynamite.com/images/redsonjabio.jpg
When I was a little girl in the 1970s, there was a used bookstore on the avenue in my hometown: Tom's Book Nook. My mother used to take advantage of the trade-in program, exchanging a pile of paperbacks for a pile of paperbacks on pay days. I was allowed to spend a dollar on old comic books, from a box Tom kept under the counter, of comics for ten cents each.
It was always a strange collection. A mix of Spiderman, Tales from the Crypt, Archie, Duck Tales, Doctor Strange, Thor, all kinds of disparate heroes. But I loved Red Sonja. I still do.
As a child, I was sure I was getting away with something, reading her tales. After all, she was nearly naked, and assuredly not ladylike or sweet. My grandmother definitely wouldn't have approved, though I suspect my mother did, even if she didn't say so aloud.
Given how the women in most of the other comics in Tom's shop were either victims or noir-ish schemers, I liked Red. She was direct. She was strong. Tough. She'd have to be. Chain mail bikini. (Ouch). In spite of looking like some kind of pin-up girl, she was so much more to me.
In recent issues, she's been
updated by Gail Simone
and I love her even more. In my heart, I might just be Red Sonja, even if my surface is a lot less fierce.
___________________________________
This post is part of the A to Z Blogging Challenge. I'll be writing about superheroes I love all month. You can check out other bloggers and see their creative takes on the challenge
here
.
Don't forget to check out my own superhero stories: The newest one released TODAY! Check out Book 2: Change of Life (the kindle is now live and the paper edition will be out in the next few days!)